Kansas City Chiefs wide receiver Tyreek Hill remains under investigation by the Overland Park Police Department and the Johnson County District Attorney's Office for an incident reported last Thursday in a home shared by the 25-year-old star and his fiancée, Crystal Espinal.
A police incident report from March 14, reveals very few details. The victim is a juvenile and the listed injury is ambiguously termed "apparent minor injury." With respect to possible use of a weapon or tool, an item is indicated, but it is undisclosed and listed only as "other."
The incident report omits a key finding by The Kansas City Star, KCTV5 and other media. They have learned that police are investigating the circumstances that led Hill and Espinal's three-year-old son to recently suffer a broken arm. It is unclear if the injury stems from the March 14 incident or from a prior one.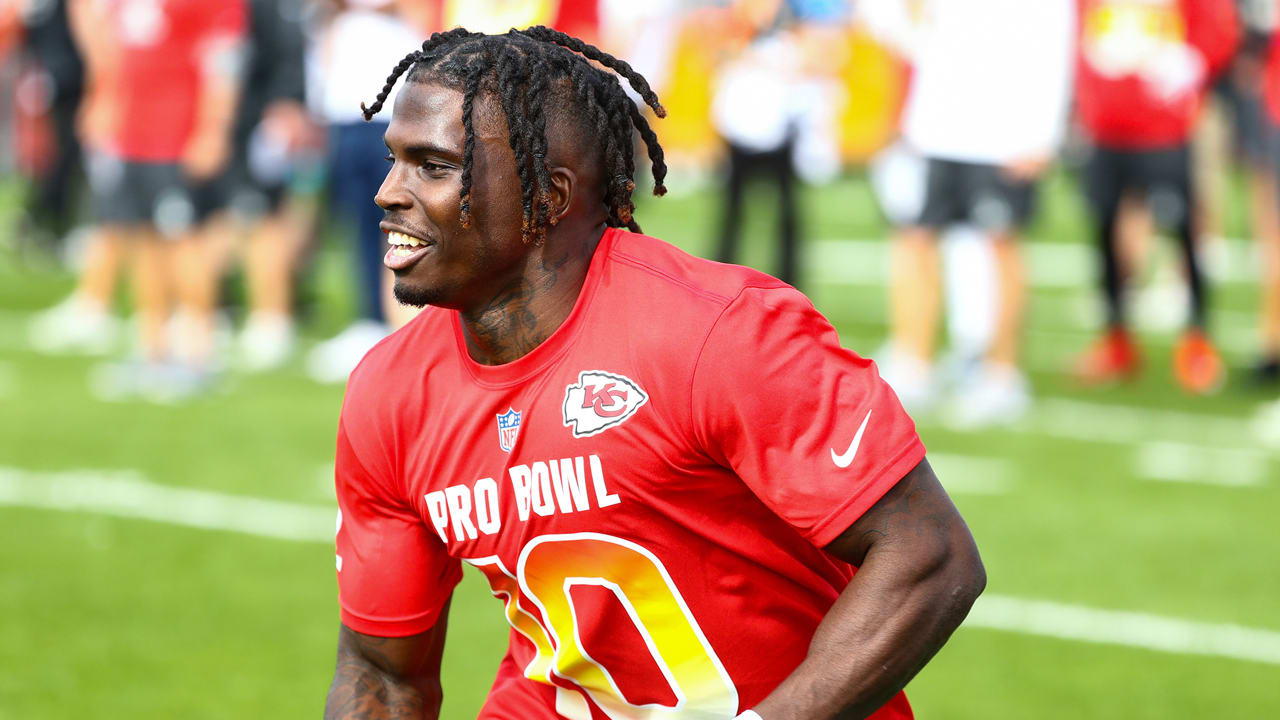 While the police's incident report mentions little about what may have happened, it does contain important details about the possible crime. Battery, as classified under Kansas Statute 21-5413, is the crime in question. Under Kansas law, battery is defined as knowingly or recklessly causing bodily harm to another person. Depending on, among other factors, whether the victim suffered a severe or disfiguring injury and whether the victim's occupation falls within a protected category (e.g., police officer, school employee), battery can be classified as a misdemeanor or a felony. If a misdemeanor, battery is punishable by up to one year in jail; if a felony, battery is punishable by up to several years in prison depending on a range of factors. In the context of an injury that threatens the well-being of a child, battery can also lead to loss of child custody rights.
The March 14 incident report does not state or imply that Hill—or any other specific person—is responsible for his son's injury. In fact, Hill's name does not appear anywhere on the report. However, Espinal, who is 24 years old, is listed under "others involved." As of this writing, no one has been charged with a crime.
The March 14 incident is not the first family-related occurrence in the home of Hill and Espinal to draw the attention of law enforcement. Police also investigated an incident on March 5 in which both Hill and Espinal are classified as "others involved." According to the accompanying incident report, police investigated possible child abuse or neglect.
Under Kansas law, abuse of a child becomes a felony-level offense when the adult "cruelly beats" or "tortures" a child. Abuse of a child is also a felony when a parent or guardian engages in "inhumane corporal punishment" or shakes a child in such a violent way so as to cause him or her great bodily harm. Upon a determination that criminal charges were not warranted, law enforcement closed the child abuse investigation on March 8. The investigation can be reopened should evidence or testimony warrant.
The Kansas Department for Children and Families (Kansas DCF)—the state's child welfare agency—is conducting its own investigation into activities occurring in Hill and Espinal's home.
Hill and Espinal have been a couple for at least five years. In January, Hill publicly stated that Espinal was pregnant with twins.
Hill's past legal issues
Hill, who is a three-time Pro Bowler, has a disturbing legal history. As detailed by SI's Jonathan Jones, Hill pleaded guilty to domestic assault and battery in 2015. The plea reflected a gruesome incident that occurred in December 2014, while Hill was a star running back at Oklahoma State University. Espinal was Hill's girlfriend at the time. She was also eight weeks pregnant. Hill attacked Espinal in a Stillwater apartment that they shared. Specifically, he hit her in both the face and stomach, and strangled her.
Through a plea deal, Hill avoided jail but received a three-year deferred sentence, probation and required completion of anger management coursework. The charges were technically dismissed and expunged last year upon Hill completing the requirements of his sentence. Hill's football career at OSU ended with the school dismissing him. He then transferred to the University of West Alabama and from there the Chiefs drafted him in the fifth round of the 2016 NFL Draft. Many, if not most, NFL teams had removed Hill entirely from their draft board on account of his misconduct.
Expect the Chiefs to wait until the police or child protection services take any action
As mentioned above, neither Hill nor anyone else has been charged with a crime stemming from incidents that allegedly occurred in his and Espinal's home or while children were under the care of either Hill or Espinal.
The absence of charges does not mean that someone or multiple persons won't be charged. In fact, under Kansas law, there is a five-year statute of limitations for battery and other crimes. Still, it would be speculative to assume that Hill will be charged, just as it would be speculative to assume that he'll be cleared. The truthful answer is we don't know what happened and we don't know what will happen going forward.
Law enforcement need not rush to charge Hill or anyone else, particularly if they have encountered any conflicting evidence or other uncertainties about the case. Kansas DCF will act with haste, though, if children under Hill and Espinal's care are in danger.
Both police and child protective services will try to determine where and when the injury occurred, who was around the three-year old boy at the time of his injury (or injuries) and whether Hill or Espinal sought medical services for their injured son—and if not, why didn't they. The investigation will include witness interviews and requests, if not warrants, for physical evidence, including emails and texts. It's also not clear, at least based on the wording of the incident reports, which person or persons called the police.
In addition, the NFL's stated protocol for acts that involve a first-time offense of "domestic violence, dating violence, child abuse and other forms of family violence," calls for "a baseline suspension without pay of six games, with consideration given to any aggravating or mitigating factors." Although this language expressly doesn't preclude Goodell from imposing a suspension in excess of six games, it suggests that six games is generally the appropriate amount.
On the other hand, Goodell would face intense pressure to impose a much longer suspension than six games should Hill admit to breaking, or be found to have broken, the arm of his three-year old son.
First, while it's true that Hill would be a first-time offender of the NFL's personal conduct policy, it would also be true that the legal system would have found Hill a two-time offender of "family violence." In that respect, he would be a repeat offender. Under the aforementioned NFL protocol, Hill would face "permanent banishment from the NFL" with an opportunity to petition for reinstatement after one year.