As part of the Clark trade, the Chiefs swapped their original third-round pick (92nd overall) for the Seahawks' 84th. However, Kansas City doesn't own a fourth-round pick because of a 2017 trade to acquire Buffalo Bills LB Reggie Ragland.
With that third-round pick from Seattle, Penn State CB Amani Oruwariye would represent great value. Though he lacks elite speed, the 6-2, 205 pounder is a physical press cornerback. He was an All-Big Ten performer last season while breaking up 12 passes (to lead Penn State) and recording three interceptions and 51 tackles.
Though the obvious needs are on the defensive side, head coach Andy Reid loves drafting offensive linemen, which he did early and often with the Philadelphia Eagles.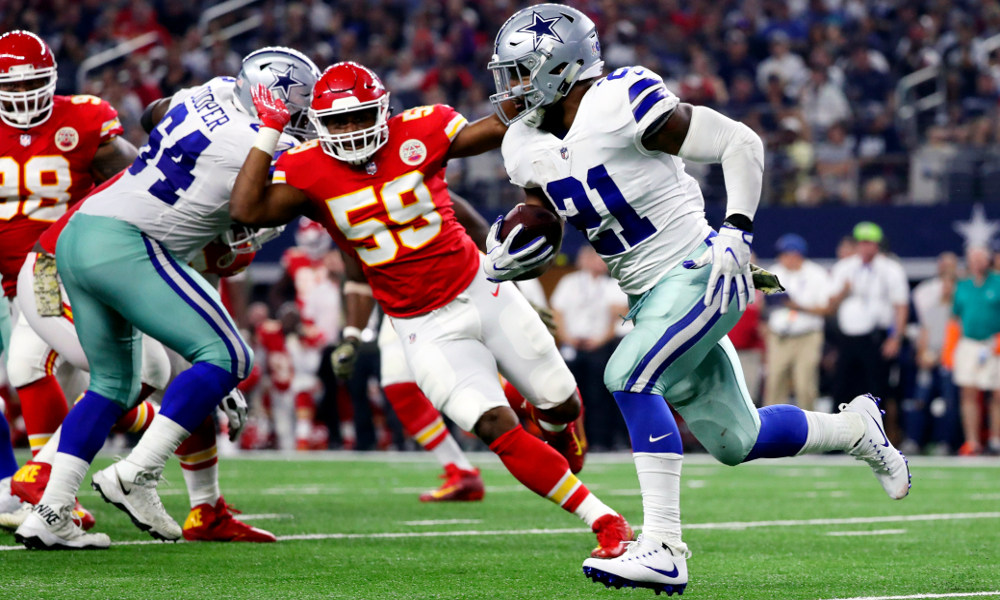 With C Mitch Morse having signed a four-year, $44.5 million deal, including $26.175 million guaranteed, with the Buffalo Bills, that position could also be bolstered.
Ohio State C/G Michael Jordan would have great value in the third or fifth round.
He won't go on to have the career his namesake had in basketball, but the football version has a great frame at 6-6 and 312 pounds. Experienced and durable, Jordan impressively started every game for the Buckeyes during the last three seasons.
Alabama has had inside linebackers selected early in each of the last three drafts. Reggie Ragland went 41st overall in 2016, Reuben Foster slid to 31st in 2017, and Rashaan Evans went 21st in 2018. As such, like with other positions in Bama's defense, younger players have to wait their turn to get on the field.
As a freshman in 2016, Wilson's impact was mainly felt on special teams, where he produced a lot of big hits on kick coverage. When he got his chance to start in 2017, he responded by intercepting four passes. In 2018, he had two picks, and was an enforcer at times (but a shaky tackler at other times) in the middle of Bama's imposing defense.
On Thursday, Bleacher Report revealed their selections for the worst player of the 2018 season for each NFL team. To no surprise, their choice for the Kansas City Chiefs went to someone on defense, with the unlucky recipient being linebacker Reggie Ragland.
Ragland has 80 tackles and 0.5 sacks this season for the Chiefs in 15 games. He's currently not the lowest-rated starting player on the Chiefs defense at Pro Football Focus (that dubious distinction goes to linebacker Anthony Hitchens, who ranks as the number 89 linebacker in the NFL to Ragland's 77), but Bleacher Report made Ragland the choice while criticizing his tackling and pass coverage.
"Ragland is a big part of why the Chiefs are easy to attack in the middle of the field," wrote Kristopher Knox of B/R. "Many of his tackles have come as he's chasing ball-carriers. Browns and Colts fans who watched D'Qwell Jackson rack up stats in his heyday can relate. The former Alabama standout misses far too many open-field tackles, and he's a liability in pass coverage as well. He's a big reason why Kansas City's defense could cost the team in the postseason."
The Chiefs acquired Ragland in a preseason trade with the Buffalo Bills in 2017 after he missed his entire rookie season with a torn ACL. He worked his way into the starting lineup last season and had enough good moments to create a strong level of optimism for his prospects in 2018. That optimism was spurred in part by Ragland seemingly having his injury problems in the past.
"I'm very comfortable now," Ragland told reporters in April. "Offseason workouts, I did a lot of stuff as far as explosiveness and I feel like I'm getting my explosiveness back. As far as the defense, I feel like I'm more comfortable now. The verbiage, I'm spitting it out in the meetings and everything, so I'm very comfortable."
Ragland's path took a temporary detour in July when he was sidelined for multiple weeks after swelling flared up in his knee. He returned to action in August and was healthy enough by the opening of the season to be back in the starting lineup. He's gone on to play 546 snaps this year (49.10 percent) and racked up a season-high ten tackles in Kansas City's loss at Seattle in Week 16.
The title of worst Chiefs player this season is one that's up for debate (if it's even a debate worth having), but perhaps Ragland is among those who hasn't flashed as much as some thought he would coming into 2018. If Ragland's showing this season does deserve the type of criticism Bleacher Report gave, he's certainly not alone — there's more than enough to go around for a defense that heads into the final week ranking second-to-last in the league in yards allowed per game.